If your computer is currently running on Microsoft Windows Vista, 7 or 8, skip this section. For more information, click here.
During the installation process, the program will automatically detect if you already have Microsoft .NET framework installed on your computer, and if not, it will give you an installation prompt to pause the Little Reader installation and install the Framework first.
Installing .NET Framework
While installing Little Reader, you will see a dialogue box, as displayed below: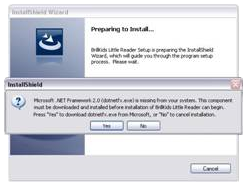 Click Yes to download .NET Framework.
The installer will begin automatically downloading .NET Framework from Microsoft. (This may take a few minutes.) When the download completes, a small pop-up window will appear, asking if you want to run the .NET installer. Click on Run.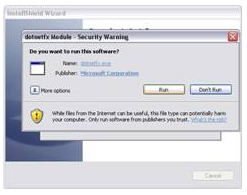 Continue to follow the installation prompts from Microsoft to finish the installation.