NOTE: This feature is only available with Little Reader Pro.

Do you want to draw an arrow or encircle an object in a picture you are using? How about using your own photos and zoom in or out to highlight an object, or perhaps adjust the brightness or crop away unwanted parts of your photo? You don't need to buy any additional software to do that – your Little Reader comes with a Picture Editor that lets you do exactly what you want!
You can launch it via the Picture Editor button in the Little Reader window, by clicking on the EDIT button in the Picture Slide panel of the New or Edit Word window, or via the shortcut in your Little Reader Start Menu folder. With the Picture Editor you can easily customize the pictures your baby sees in every Little Reader lesson.
How to Open an Existing Picture for Editing
Open the Picture Editor. You will then see a menu as shown above.
To open an existing picture that you want to edit, click on the Open button (or go to the File menu and select Open).
Locate the file in your computer. Click on Open.
You will then see an Auto-Clone Confirmation dialogue box.
Select Yes if you want to make another copy of the picture to preserve the original image. Select No if you think that it's okay to edit the picture itself.
Your image will then be shown to you, ready for any editing that you may wish to perform.
About Cloning a Picture
Cloning a picture means copying your actual picture and making an identical copy of it. To clone an image, simply click on the Clone button, and then select Yes in the Auto-Clone Confirmation dialogue box. This will automatically create a new tab with your cloned image.
How to Change Views While Editing
To aid your editing, the Picture Editor offers four views to choose from:
Zoom In

Use this button to magnify your image. This is particularly useful for viewing the finer details in images that you may want to edit.

Zoom Out

Use this button to make your image view smaller.

Actual Size

Use this button to revert the image to its actual size.

Auto-Fit

If you have a big image (of example, a photo taken with a very high resolution camera setting), using Auto-Fit will automatically resize your image to the size which will best fit your screen.
How to Crop Your Image
Cropping means removing any excess area of an image that you do not want to display or have no interest in retaining. The Picture Editor deletes all objects outside of the selected area or currently selected objects when cropping.
Click on the Crop button.
Select the area of the base image that you want to keep by adjusting the borders of you cropping tool.
Double click inside the image to finalize the crop.
How to Resize your Image
This is particularly useful if you have an image that is too large or too small to use with Little Reader. Resizing your images will make sure that you optimize the file size of your image as well as the clarity of the picture on the screen.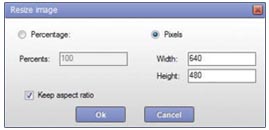 Click on the Resize button.
Adjust the size of the image in terms of percentage or pixels.
Make sure that you keep the aspect ratio so as not to distort the image proportions.
When you are finished specifying your size requirements, click on OK.
Click Save to save your image on your computer.
NOTE: BrillKids Little Reader uses the default size of 1000x750 pixels for most of its images. This allows us to have a reasonable sharpness of the image while maintaining a minimum file size.
How to Rotate your Image
Select the object you wish to flip or rotate and select Rotate.
A window will appear on the right side of the screen with the following options:
No Rotation - Selecting this function will not rotate your image in any way.
180 - Rotate your image 180 degrees, flipping your image upside-down.
Left 90 - Rotate your image 90 degrees to the left.
Right 90 - Rotate your images 90 degrees to the right.
Custom Angle - If you want to rotate your image to a certain degree that is not available in any of the default settings, you may customize the angle with which the Picture Editor will rotate your image. Simply increase or decrease the angle setting.
To implement your rotation setting, click on Apply. When you're all done, confirm your actions by clicking on Done.
Next Page: