Little Reader also provides a way for you to monitor your baby's learning progress through the Statistics screen. Here you will find statistics on how much your child has viewed a certain Course lesson, Category, or even individual words, as well as the dates when your child last viewed each flash card.

This will help you adjust your playback settings and frequency to balance the learning process. Simply select the Statistics tab from the Tools screen.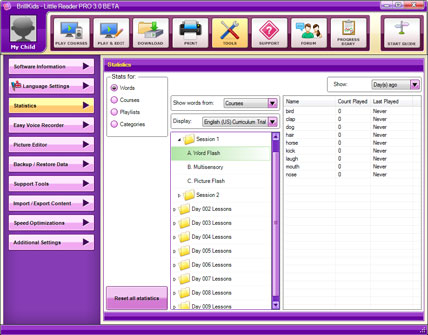 You may choose to view playback stats for Words (this will show stats for all the words currently in your Word Library), Courses, Playlists, or Categories. You can further filter the stats you want to see for Words and Courses stats by selecting filter options such as the Show words from option for Words stats and the Display option for Courses stats.
What the Playback Stats Show
Name
This is the Word file name, as set in the New or Edit Word window. This column is referred to as Courses, Playlists, and Categories when viewing playback stats for Courses, Playlists, and Categories, respectively.
Count Played
This number indicates how many times a particular Word/Course/Playlist/Category was played during playback.
Last Played
This shows the last time a particular Word/Course/Playlist/Category was played during playback. Items in this column may be displayed in two ways, which you can specify via the Show selection right above the stat list:
Day(s) ago – Displays the Last Played stats as "2 Day(s) ago," "10 Day(s) ago," etc.
Date – Displays the Last Played stats as the exact date and time (e.g., "1 Dec 2009 10:30")