NOTE: This feature is only available with Little Reader Pro.

1. In Little Reader, go to the Play & Edit screen.

2. Click on the Courses tab.

3. Choose the course which you want to print from the Display drop-down list.
4. Click on the Edit button under Courses.

5. At the bottom of the Edit Course window, click on the View schedule button.

6. To print out the course schedule, click on the Print button in the schedule window.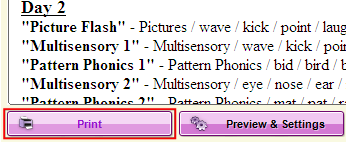 NOTE: (Before you print out your course schedule, you may want to preview the print layout and change the settings. To do this, click on the Preview & Settings button in the schedule window.)