Got any comments or suggestions? Write to us via the Support Screen's Feedback form - we'd love to hear from you!
For comments and questions regarding Little Musician, Lesson Downloads, and Tech Support, select the upper message box and choose which forum section you would like to post your message to, and then click the POST button.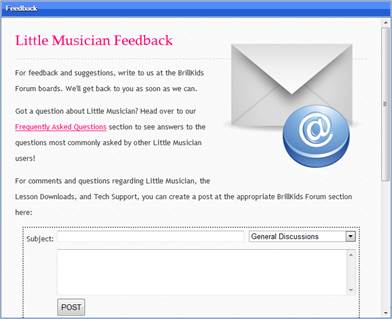 You will be redirected to the BrillKids Forum. Write down the subject and your message and then click the POST button to start your new topic in the selected forum section.
To talk about your success stories, favorite Little Musician features, or even let us know just how much you love the Forum community, select the lower message box and write down your message, and then click the POST button.
Your message will be posted on the BrillKids Forum. On the redirected page, choose whether you want to visit the topic you just posted to or return to the Feedback page.
For other inquiries regarding Little Musician and related products (Picture Editor, Easy Voice Recorder), click the Contact BrillKids Support button to contact Customer Support.
Related Article: